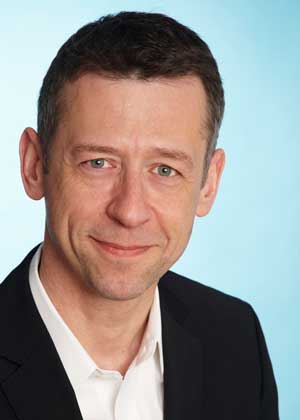 Gerrit Borchard is a licensed pharmacist and obtained his Ph.D. in pharmaceutical technology from the University of Frankfurt (Germany) for his thesis on the interaction of colloidal drug carrier systems with the immune system. After holding several academic posts, including a lecturer position at Saarland University (Germany) and Assistant and Associate Professorships at Leiden University (The Netherlands), he joined Enzon Pharmaceuticals, Inc. (USA) as Vice President Research. In 2005, he was appointed Full Professor of Biopharmaceutics at the University of Geneva (Switzerland), and Scientific Director of the Centre Pharmapeptides in Archamps (France), an international center for biopharmaceutical research and training. Prof. Borchard is (co-)author of over 130 scientific publications and book chapters, co-editor of one book and named as inventor on 7 patents.
From 2008 to 2013, he served as Vice President of the School of Pharmaceutical Sciences Geneva-Lausanne (EPGL) and from 2013 to 2014 as acting president. In 2012 Prof. Borchard joined the Non Biological Complex Drugs (NBCD) working group hosted at Lygature (former Top Institute Pharma (TIP, Leiden, The Netherlands), and became member of the steering committee in 2015. He was nominated Chair of the NBC working party at the European Directorate for the Quality of Medicines & Health Care (EDQM) by Swissmedic in 2013.
Prof. Borchard was nominated Fellow of the Swiss Society of Pharmaceutical Sciences (SSPhS) in 2010, and has been President of the Swiss Academy of Pharmaceutical Sciences since 2014. He also served as Vice President of the European Federation of Pharmaceutical Sciences (EUFEPS) from 2013 to 2015.
Due to his working in both academia and industry, and living in four countries, Prof. Borchard has acquired extensive experience in diverse working and cultural environments, and speaks Dutch, English, French and German fluently. Time allowing, he roams the trails and by-roads of the Jura mountains on foot and bike.
Gerrit Borchard
1205 Geneva
Switzerland